Ben Teachum – Highlighted General Info:
Bats: Right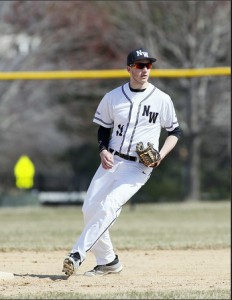 Throws: Right
Position: P, 3B, 2B, 1B
Height: 6 ft.
Weight: 203
Year: College Freshman
Class: Graduating 2020
School: Montgomery College
Location: Germantown, MD
High School GPA: 3.26 (Weighted)
High School Community Service Hours:  120 (75 required)
Highlighted Stats:
Pitching
Summer 2014: 2.71 (41 innings), 1.234 WHIP, 3.00 strikeout-to-walk ratio
Fall 2014: 1.50 ERA (14 innings), 1.143 WHIP, 2.80 strikeout-to-walk ratio
Batting
Spring 2014:  .362 AVG (60 Plate Appearances)
Career Highlights:
Award
5/14/14 Sophomore Ben Teachum Earned 2nd Team All-Division Utility Infielder at NWHS, 4A Division, Montgomery County, Germantown, MD
Ben ended his Sophomore year spring baseball season at Northwest HS as a starter, earning "2nd Team All-Division Utility Infielder", and had the overall highest batting .avg based on the most games played for the season.
Pitching
7/12/14 10Ks in 4 innings – Summer with Dig-In 16U Tournament Team vs. Bradley Eagles
Mercied game went 5 innings. Ben Teachum pitched 4 innings at 70 PIT, 10 Ks with an 11th out by him (hit back to the pitcher for a "1-3" out).
Pitching
7/19/14 Complete Game 7Ks. 0 allowed runs – Summer with Montgomery Marlins on Jr. American Legion vs. Winchester Post 21
Ben Teachum pitched a Complete 7 inning game with 101 PIT, 0.00 ERA, 7 Ks.
About Ben Teachum
Born: September 4, 1997
HS Division: Northwest High School, Germantown, Maryland, Montgomery County, Competitive 4A West Bracket
Age Started: 4 years old
Early Award: 2003 – Won trophy as tall as himself: 5u Home Run Derby Power Hitter, Germantown Athletic Club
From Pre-School to High School
Ben began with the Germantown Athletic Club until age 7, then Ben tried out for an older "Select" baseball team, was accepted and held his own playing "up".  Ben played either Select Baseball and/or tournament teams and is still doing so – always trying to become better by playing in situations with challenge – whether it's to face better pitchers, or to face better batters.
Ben tried out for his high school team and has been on varsity as a starter since his sophomore year.
Ben played mostly 1st and 3rd until high school, then 2nd, SS, and 3rd in high school.
Ben's Personality
Ben picked up objects from an early "toddler" age and threw them – skipping rocks – anything that could be picked up and thrown, so baseball is a natural sport for him.  Ben is a well-liked kid who is easy to work with – and has been told time and time again that he is "coachable", respectful, stable and reliable.
One noticeable trait is that it takes a lot to get to Ben and show emotion.  While pitching, he has complete focus,  "Chatter" is ignored and shut out. However, as laid back as Ben is, he drives to action as he dives for, reaches for, or anything else he needs to do to make a play.  He knows what's going on around him and adjusts for it as needed.
High School Sophomore Video